Music Program Video Description Transcript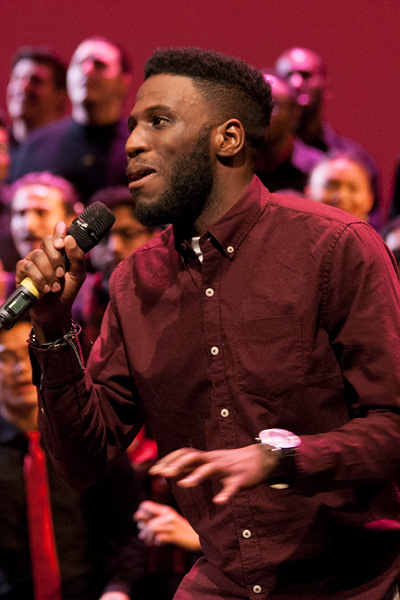 OVERVIEW
Music
We invite you to share your music, find your vision, and build the future by studying in the Department of Music's dynamic, inclusive program.
Since the 1970s Music at York has led in innovative post-secondary music studies, being the first in Canada to offer integrated studies in jazz, contemporary improvisation, gospel music, world music performance and ethnomusicology.
The program continues that tradition of innovation, combining a flexible program with individual attention. Courses in jazz, gospel, western classical, world, and contemporary music develop music skills and engage students in music creation (performance, composition, improvisation), studies (ethnomusicology, musicology, popular music studies), and community practice (education, community music, career-related placements).
While maintaining flexibility, we offer students pathways to specialize in Jazz and Gospel Music, Western Classical Music, World Music and Ethnomusicology, Black Music Studies, Contemporary Improvisation, Composition, Digital and Electronic Music, Music Education and Community Music, and Studies in Music Culture.
HIGHLIGHTS
Top 6 reasons to apply
The flexibility to choose courses from different areas or to focus and specialize
Diversity of music traditions and styles from classical, jazz, popular, and traditional musics
Opportunities to perform, participate in workshops, and benefit from community and industry placements
Classmates who are talented, invested in learning, and contribute to a shared community
Faculty who are dedicated performers, composers and scholars who give students individual attention
World-class, state-of-the art facilities for performance, rehearsal, recording and composing
YEAR BY YEAR OVERVIEW
Learning Outcomes
Share your MUSIC, find your VISION, build the FUTURE
Years 1 and 2
Build a solid foundation & explore:

Develop essential concepts and practical skills in musicianship, music theory, and performance.
Expand your awareness of musical cultures of the world.
Explore new areas of study.
Gain an understanding of the social, cultural, and historical contexts of music.
Years 3 and 4
Differentiate, consolidate, & apply:

Deepen your expertise to apply techniques, skills, and knowledge to performances and research.
Specialize in your chosen area or continue to explore options.
Connect and integrate your skills with others in creative projects and critical studies.
Apply your skills through performance, community connections, and placements.
Experience AMPD 24/7, 365 from anywhere around the world.
Careers in music can span live performance, entertainment, screen-based media, gaming and technology, education and community work.
Accompanist
Acoustician
Adjudicator
Arranger
Artist manager
Audio editor
Audio producer
Band leader
Community arts administrator
Community arts advocate
Composer
Composer
Concert promoter
Concertizing musician
Conductor
DJ
Instrument builder
Instrument collection curator
Instrument restorer
Music critic
Music director
Music librarian
Music presenter and curator
Music publisher
Music teacher
Music therapist
Musicologist
Piano tuner
Recording engineer
Song writer
Sound designer
Vocal coach
Have Questions?
WE HAVE ANSWERS