First in Canada to offer integrated studies in jazz, contemporary improvisation, gospel, world music and ethnomusicology.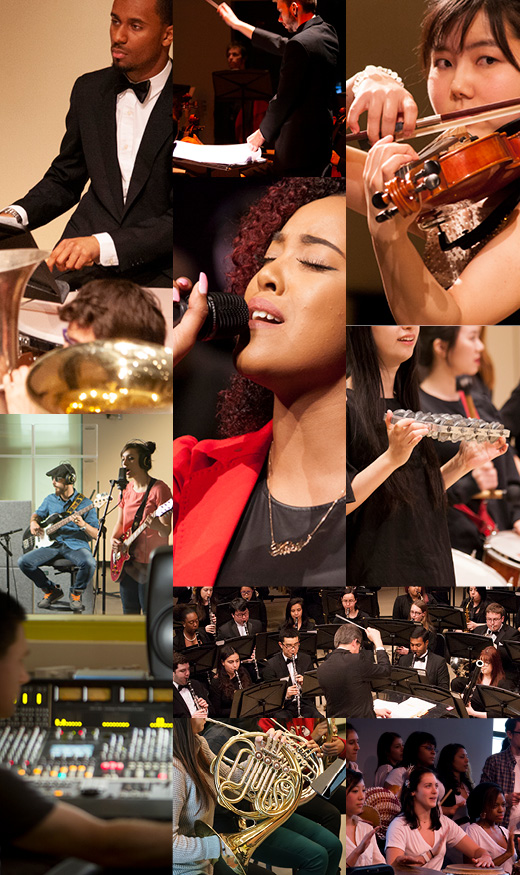 ABOUT
Music
York's Music program is known for pioneering post-secondary music studies in jazz, world, gospel, contemporary improvisation, and digital music. Students may specialize or generalize according to their interests, developing expertise in a particular area of vocal or instrumental performance or composition, or working in a variety of musical practices and cultural forms.
Music at York combines a flexible program with individual attention to prepare students for their future careers. Options include solo, small and large ensemble performance; composition and arranging; music education and community music; popular music studies and ethnomusicology; and the growing field of music media production for cinema, gaming and motion media.
The Undergraduate Program is founded on the principles of diversity and inclusion, and is unique in recognizing students with musical talent and ambition who arrive with a rich variety of musical backgrounds. It builds on these experiences by providing a common foundation in the first two years through four core courses to develop the skills necessary for ongoing music creation, studies, and community practice. During their final two years, students specialize further and can explore the full range of options available to them.
OUR CREATIVE SPACES
Tribute Communities Recital Hall
HIGHLIGHTS
A Brief History
1961
York University appoints music director, William McCauley, who is to direct extracurricular music activities on York's campuses.
1967
The York University Choir is awarded the City of Lincoln Trophy by the Federation of Canadian Music Festivals.
1968
York University establishes a pioneering new faculty of Fine Arts, including Music, and appoints Jules Heller as founding Dean.
1969
Founding and first Chair of Music at York, Sterling Beckwith designs the innovative program, and the first music majors are enrolled.
1971
South Indian percussionist Trichy Sankaran joins the faculty, marking a milestone in Canadian ethnomusicology.
1972
Robert Witmer founds the first program in jazz studies at a Canadian university.
1973
Austin Clarkson becomes Chair of the Department of Music.
1980
The Department awards its first MA in ethnomusicology.
1984
Oscar Peterson joins the faculty as adjunct professor.
1997
The Department launches the MA in composition.
1999
The first PhD in the Department is conferred.
2005
Karen Burke joins the faculty, introducing Gospel Music for the first time in a Canadian university.
2006
Music moves to its current home in the Accolate East building, which includes the Tribute Communities Recital Hall.
2009
Ron Westray joins as Oscar Peterson Chair in Jazz Performance, established with the support of the Government of Ontario.
2012
The Music Students Association (MSA) presents the first Media Music Concert, of film, television, and video-game music by students.
2015
The Faculty of Fine Arts changes its name to the School of the Arts, Media, Performance & Design.
FACULTY AND STAFF
People of Music
Associate Professor
Rob Bowman
Associate Professor
Karen Burke
Professor Emeritus
Barry Elmes
Associate Professor
Al Henderson
Associate Professor
Sherry Johnson
Professor Emeritus
Arthur Levine
Associate Professor
Stephanie Martin
Professor Emerita
Christina Petrowska Quilico
Professor Emeritus
Trichy Sankaran
Associate Professor
Robert Simms
Professor Emeritus
Casey Sokol
Associate Professor
William Thomas
Contract Faculty
Matt Vander Woude
Associate Professor
Sundar Viswanathan
Associate Professor
Patricia Wait
Associate Professor
Ron Westray
Associate Professor
Louise Wrazen
Professor Emeritus
Robert Sterling Beckwith
Professor Emeritus
Austin Clarkson
Professor Emeritus
David Lidov
Professor Emeritus
David Mott
Professor Emeritus
Steven Otto
Professor Emeritus
Philip Werren
Professor Emeritus
William Westcott
Professor Emeritus
Robert Witmer
Contract Faculty
Barbara Ackerman
Contract Faculty
William Beauvais
Contract Faculty
Stephanie Bogle
Contract Faculty
Susan Black
Contract Faculty
Gareth Burgess
Contract Faculty
Norma Burrowes
Contract Faculty
Corey Butler
Assistant Professor
Mike Cadó
Contract Faculty
Judith Cohen
Contract Faculty
Tara Davidson
Contract Faculty
Rita di Ghent
Contract Faculty
Mark Eisenman
Contract Faculty
Frank Falco
Contract Faculty
Kelly Jefferson
Contract Faculty
Brian Katz
Contract Faculty
Rick Lazar
Contract Faculty
Lorne Lofsky
Contract Faculty
James MacDonald
Contract Faculty
Irene Markoff
Contract Faculty
Anthony Michelli
Contract Faculty
Ravi Naimpally
Contract Faculty
Raisa Nakhmanovich
Contract Faculty
Roy Patterson
Contract Faculty
Barry Romberg
Contract Faculty
Arthure Ardie Roth
Contract Faculty
Karen Rymal
Contract Faculty
Philip Seguin
Contract Faculty
Phig Choy Sue
Contract Faculty
Jennifer Taylor
Contract Faculty
Peter James Vivian
Contract Faculty
Kevin Turcotte
Contract Faculty
Richard Whiteman
Contract Faculty
Sharlene Wallace
Contract Faculty
Ray Williams
Contract Faculty
Sacha Williamson
Associate Professor
Lisette Canton
Associate Professor
Michael Coghlan
Associate Professor
Mark Chambers
Professor Emeritus
Dorothy de Val
Associate Professor
Doug Van Nort
Assistant Professor
Randolph Peters
Contract Faculty
John Holland
Contract Faculty
Abounasr Amir Koushkani
Contract Faculty
Anne Lederman
Contract Faculty
Charles Matthew Brubeck
Contract Faculty
Don Englert
Contract Faculty
Edward Moroney
Contract Faculty
Edward Tait
Contract Faculty
Edward Wilson
Contract Faculty
Eric Hall
Contract Faculty
James Stager
Contract Faculty
John Brownell
Contract Faculty
John David Lum
Contract Faculty
Larry K. Graves
Contract Faculty
Mark Skazinetsky
Contract Faculty
Robert John Cappelletto
Contract Faculty
Sharon Marshall
Contract Faculty
Stephen Koven
Assistant Professor
Noam Lemish
Assistant Professor
Amy Hillis
Contract Faculty
Richard Moore
Assistant Professor
Melissa Davis
MUSIC AT YORK STUDENTS
Perks
Featured Guests
Through the year, special guests are invited from the professional and academic worlds to give seminars, offer specialized workshops, give guest lectures, and provide career guidance, with the annual week-long residency of the Oscar Peterson Jazz Artist-in-Residence providing a major highlight.
Performance Opportunities
Course-based, faculty-inspired, and student-initiated opportunities to rehearse and perform both on and off campus in a range of professional and community settings contribute to the dynamic atmosphere in the Department.
Enriched Experiences
Students benefit from the active creative, scholarly, and community-based activities of our faculty, whose teaching and mentorship are informed by their ongoing professional work as performers, composers, and engaged scholars, resulting in a music program enriched by the intersections of these areas of research and creation.
Sound and Moving Image Library and Scott Library
York's library system offers valuable research and performance resources that include scores, critical editions, films and recordings (notable for its collection of jazz and popular music recordings), a comprehensive holding of books and journals, and special collections including sheet music and the Mariposa archives.
MUSIC AT YORK STUDENTS
Getting Involved